FEBRUARY 2020
Credit Valley Conservation Areas Outdoor Events
A few years ago, my friend Jennie, and I went to the Terra Cotta Moonlight event. After all these years, there are still new things to discover. We snowshoed and totally enjoyed the experience. CVC runs these events throughout the winter.
Friday, February 7: ISLAND LAKE'S MOONLIGHT EVENT. 6 p.m. to 9:30 p.m. Island Lake Park in Orangeville. Explore the trails by snowshoes or bring your own skates and glide around Island Lake under the moonlight. Areas will be marked but remember to bring a headlamp for extra light. Afterwards, warm up by a campfire with hot chocolate and roasted marshmallows. Snowshoe rentals are available in limited quantities. Skate rentals are not available. To reserve rentals, go to cvcparks.ca.
Saturday, February 8: TERRA COTTA'S MOONLIGHT EVENT. 6 p.m. to 9:30 p.m. Terra Cotta Conservation Area in Terra Cotta. Enjoy an evening skating, skiing or snowshoeing under the starts at Terra Cotta Conservation Area. Glide across a torch-lit Wolf Lake or follow the moonlight trails, while embracing Ontario's winter wonderland at night. Afterwards, warm up by a campfire with a hot beverage. Don't forget your headlamp! Snowshoes and skis are available for rent from the Visitors Welcome Centre or bring your own. Skate rentals are not available.
To reserve rentals, go to cvcparks.ca
Saturday, February 8 - Monday, February 17 ISLAND LAKE FISHING DERBY 8:00 a.m. - 6:00 p.m. Island Lake Conservation Area, Orangeville. Enjoy some competition on the ice this winter! The Island Lake Ice Fishing Derby returns with great categories and prizes. This event will run according to safe ice conditions.This year, there's $2,500 in cash prizes up for grabs!!
Services during the derby include heated ice hut rentals, bait, augering of fishing holes, tackle and snack shop. Call ahead to reserve your ice hut. A reminder that a valid Ontario Fishing License is required to participate in the derby. See you on the lake! Rentals available online.
For more details and to register, visit Islandlakederby.ca
Contact: Credit Valley Conservation at 1-800-367-0890 or recreation@cvc.ca
NOVEMBER 2019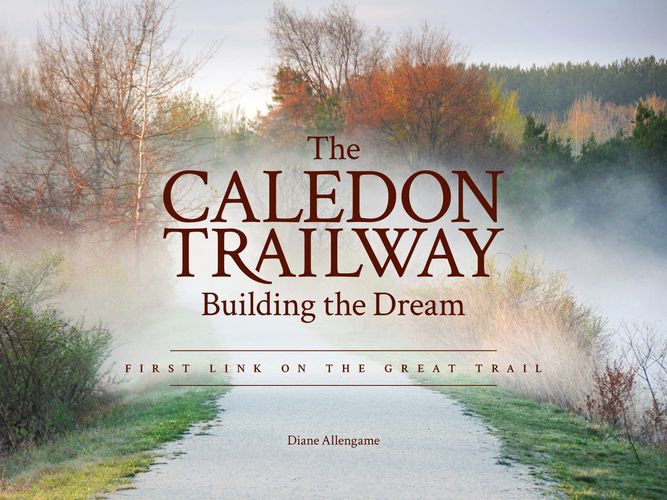 November 24th 2:30 to 5:00 p.m. The Caledon Trailway: Building the Dream. Come out to share the book launch about the trail I travel almost every day. The Caledon Trail is now part of The Great Trail that spans coast to coast & to the Arctic Oceans in Canada. Written by Diane Allengame, the book shares how an abandoned 19th-century railway became a beloved trailway. It is also the tale of the people involved, from visionaries to elected officials, community groups and volunteers – to the passionate users, all of whom played a significant role in its creation. Also included is a Trail Diary by Nicola Ross. Hard cover coffee table book – $40. Held at St. James Anglican Church in Caledon East. For more details: Caledon Trailway Book
November 23rd, 24th, 30th & December 1st: Photos with The Grinch at The Alton Mill. This is one of my favourite Christmas events! We all have photos with Santa, so why not change it up this year? Bring your little ones (or maybe yourself) to Alton. While you are at The Mill, plan on getting some Christmas shopping done as you will be delighted by the unique artistic gifts you will find. Photos with The Grinch can be pre-booked or "first come - first served". Check out their site for details.
Now until December 24th: Village of Erin Christmas in the Country. Stroll down Erin's quaint main street, and enjoy our authentic country Christmas welcome. With every purchase at any participating Erin Village merchant, collect a stamp. Collect five business stamps and enter the contest to win gift certificates of $250, $150 and $100. Country living meets boutique shopping in this beautiful village just outside the city. You'll want to stay into the evening, enjoy a great meal in Erin's locally owned restaurants, and enjoy the magical and inspiring holiday windows lit up. Make it a full day visit to one of Ontario's best-kept historic downtowns. Presented by The Village of Erin BIA. Christmas in Erin